Florida Permanent Reference Network
The Florida Permanent Reference Network (FPRN) is an RTK GPS network presently consisting of over 80 Continuously Operating Reference Stations in Florida built and operated by the Florida Department of Transportation.

The network presently provides RTK baseline solutions to public and private users free of charge as a public resource to the taxpayers of the State of Florida, regardless of which brand of GPS equipment they use. Access is provided through off-the-shelf cellular modems connecting to the internet. IP/Port assignments for each reference station are available on www.myfloridagps.com.

The system utilizes Leica Geosystems GPS Reference Stations controlled by Leica SPIDER Reference Station software. Plans call for additional reference stations to be added over time, and for the inclusion of correction data from existing private and public reference station networks, thus creating a densely populated system capable of providing network solutions statewide.

For more information on the Florida Permanent Reference Network contact customer support at (850) 510-8596 or support@myfloridagps.com. For more information on purchasing and using Leica GPS equipment to obtain and use RTK corrections from the FPRN, information regarding other public reference station networks, or for building your own network, contact your local FLT Geosystems salesperson or inquire at info@fltgeosystems.com.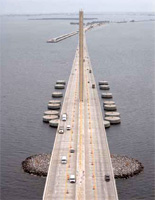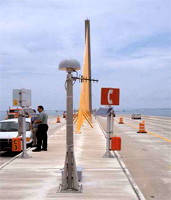 FPRN uses Leica reference stations to monitor Jacksonville's Dames Point Bridge and Tampa's Sunshine Skyway Bridge, shown here.